De Carlini Italian Ornaments History
De Carlini Italian Christmas Ornaments have been our specialty since 1985. Each one of the mouthblown Italian glass hand painted and decorated ornament is produced today the same way it was when the glass masters artists of the De Carlini factory started 3 generations ago.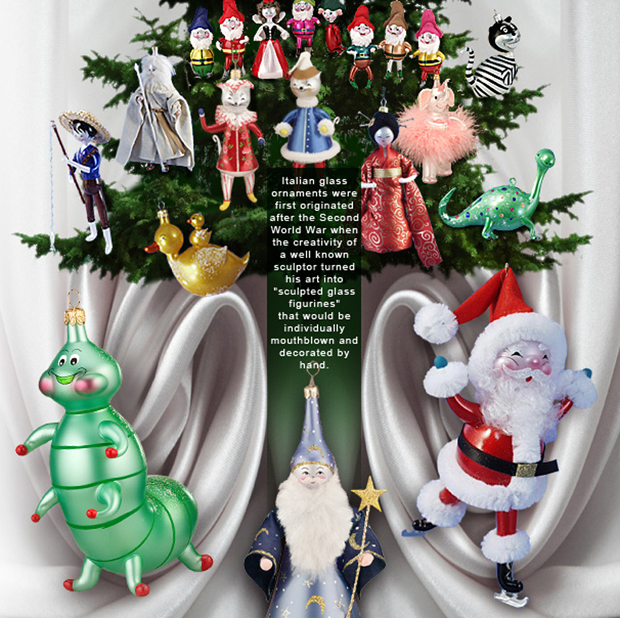 We would like to invite you to take a web site tour that will make you understand when the magic is in the mood of the artist, there are no limites for any creation. This is the artistic process the Soffieria De Carlini uses to give life through a mouth blow and create their magnificent mouthblown Italian glass Christmas ornaments.
Right after World War II, when everything was so sad and destroyed in Europe, the De Carlini Family thought they had a way to put magic back into the times with some cheerful Italian glass Christmas Ornaments. The Soffieria De Carlini was born in post war Europe, inspired on the wish to be happy again and the hope for better times to come.
New, at The Cottage Shop this year, we are pleased to bring you a revival of the very first decade of Italian ornaments under the De Carlini Vintage ornaments collection. From them, we can see the artistry of the time, much simpler but not less beautiful for the Italian ornaments' collectors.
Many things will pass on life but on thing is certain to remain and that is the celebration of Christmas. What a better way to decorate your Christmas tree and give some enchantment to the Season than with the De Carlini Italian glass Christmas ornaments, the best Christmas Ornaments made in the world today!
Please visit our De Carlini Exclusive Limited Editions Ornaments, the De Carlini Fairy Tales Ornaments, the De Carlini Elegant Ladies Ornaments and much more to surprise you will be arriving at The Cottage Shop by the end of the Summer.