De Carlini Sommeliers Christmas Ornaments
De Carlini Red Wine Sommeliers Italian Glass christmas Ornamenta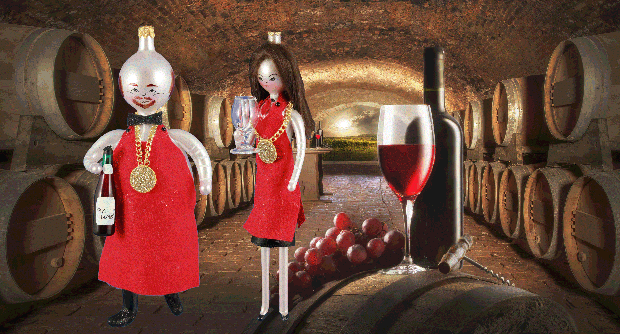 The Cottage Shop offers a variety of De Carlini Sommeliers Christmas Ornaments that are decorated in red sommelier aprons and wear a tastevin on a chain. Whether you purchase just one or the whole collection, these will make the perfect gift for the wine connoisseur!
There are speculations as to where the word "sommelier" came from. A sommerier was responsible for watching over a somier or a pack animal. Over time, the word sommerier slightly changed with structure and meaning. Eventually is was soumelier and that person was responsible for transporting supplies. Finally, sommelier became someone who was in charge of a specific type of cargo. Today, sommelier is exclusively used for beverages.
In 14th century England, the royal butler of the king and of wealthy households would procure wine for them. The price of wine would vary depending on availability and new vintages. Price will rise and then fall when a new vintage became available. The butler would purchase a lot of poor years for the household's table wine and for the good years, he would buy larger quantities of the best wine for the king's personal consumption. Sommeliers today use this similar trend.
In the 18th century, restaurants developed from taverns to a la carte made to order venues by French aristocrats. After the French Revolution, the aristocrat class ended and many chefs were without jobs. Small eatery venues opened up for the public. This set motion for early 18th century dining. These restaurants began requiring beverage professionals. This process laid down the principal foundations of sommeliers. Sommeliers in restaurants create wine lists, order wines, maintain and rotate wine stock and based on their knowledge of wine pairing, they will make recommendations. Established in 1977, the Court of Master Sommeliers encourages improved standards of beverage knowledge and service and provide successful examinations and education for sommeliers. Through its members, they share the mastery of a sommelier's work to the world. The modern-day sommelier has a rich history and will continue to blossom as wine-culture changes and evolves.