Limoges Cupcake Boxes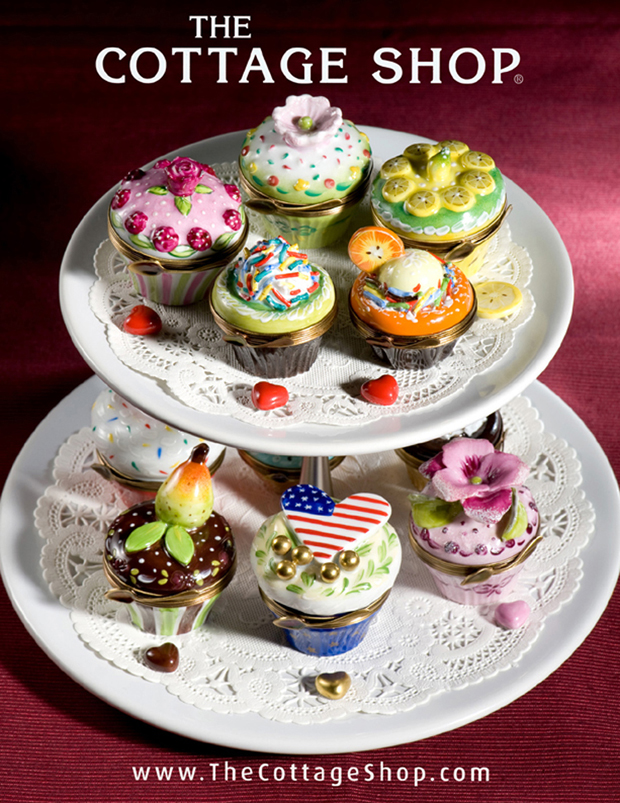 The cupcake has been a fan favorite for years. They rose to popularity because they saved time and weren't as likely to burn in the oven. In 1796, Amelia Simmons published the first known American cookbook and included a recipe for A light cake to make in small cups. Since then, cupcakes have taken the world by storm and they have even been included in several world records documented by Guinness. The Limoges USA Cupcake Box has a red painted base with gold stars and a heart shaped American flag on top. The Limoges Valentine I Love You Cupcake Box is the perfect romantic gift with its painted pink base and red hearts.
In 1919, the Hostess CupCake was introduced to the public and became one of the world's most famous cupcake. This iconic cupcake with the signature white loop icing has sold up to 600 million cupcakes in a year during its peak. The Hostess Brands still produce these treats today. The Limoges Gold Coffee Beans Cupcake Box is petite and has brushed painted gold over the pink base and 3D porcelain coffee beans painted in gold on top.
In 2011, Georgetown Cupcake in Sterling, Virginia made the largest cupcake at 56 inches in diameter and 36 inches tall weighing at 1,176.6 kg. In 2017, Mall of America in Bloomington, MN iced 941 cupcakes in 1 hour. In 2018, Ashish Spencer from Uttarakhand, India decorated 6 cupcakes in 47.21 seconds. In 2019, Preethi Kitchen Appliances and Food Consulate in Chennai, India created the tallest tower of cupcakes at 41 feet and 8 inches including 18,818 cupcakes. The Limoges Pink Pansy Cupcake Box is painted in light pink with maroon accents and displays a large 3D pansy on the top. The Limoges Lemon Cupcake Box has small lemon slices painted on a green frosted top with a yellow base with painted brown seeds.
In 2012, one of the first cupcake only bakeries, Sprinkles Cupcakes, developed a wall ATM that dispenses cupcakes 24 hours a day and holds up to 600 fresh cupcakes at a time. This cupcake ATM is located in Beverly Hills, CA. The Limoges Pear Cupcake Box is painted in green and brown stripes on the base and has a small pear on top accompanied by green leaves.
Cupcakes are a popular trend in the culinary world. Bakers have experimented with flavors and decorations to please consumers everywhere. In 2010, owners of Georgetown Cupcake in Washington, Katherine Kallinis and Sophie LaMontagne, aired the first episode of DC Cupcakes. This reality tv series followed their daily lives running a fast-paced bakery and the drama behind the scenes. In 2009, the Food Network aired it's first of 7 seasons of Cupcake Wars. This hit show featured the country's top bakers competing for a $10,000 prize in a cupcake baking competition. The Limoges Strawberry Cupcake with Flowers Box has 3D pink flowers and tiny strawberry décor on top. The Limoges Cupcake with Flowers and Chocolate Heart Box has a cluster of pale colored 3D roses on top of a chocolate cupcake.
Whether you enjoy cupcakes on your birthday or bake them for a pastime, cupcakes will continue to be one of the world's favorite treats! The Cottage Shop offers a variety of Limoges Cupcake Boxes that would make perfect gifts for any occasion!